Hummus
Submitted by
recipebob
on September 20, 2009 - 6:12am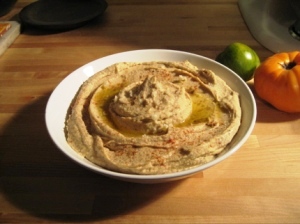 Description
Hummus (hummous) is a popular Middle Eastern appetizer dip made from chickpeas and Tahini (sesame seed preparation - a Middle Eastern essential). Hummus is the Arabic word for Chickpea, also known as garbanzo beans in Spanish and Cece beans in Italian.
There are many varieties of hummus. Here is a basic traditional style made with Tahini.
Serve with pita bread cut up into small dipping size pieces.
Ingredients
1 can 16 oz of chickpeas (garbanzo beans)
1/4 cup liquid from can of chickpeas
4 tbsp lemon juice (to taste)
1 1/2 tbsp tahini
2 cloves garlic, crushed
1/2 tsp salt
2 tbsp olive oil
parsley for garnish (optional)
Instructions
Drain the chickpeas and set aside liquid from can. Combine the chickpeas, lemon juice, tahini and garlic in a blender or food processor. Blend thoroughly. Add 1/4 cup of liquid from chickpeas. Continue blending for 3-5 minutes on low until thoroughly mixed and smooth.
Place in serving bowl, and create a shallow well in the center of the hummus.
Add 1-2 tablespoons of olive oil in the well. Garnish with parsley (optional).
Serve immediately with fresh, warm pita bread. Or cover and refrigerate to store and server later.
Notes
This is a great hummus (hummous) base for many variations and extras that you can add. Try cumin, sun-dried tomatioes, roasted garlic, or roasted red peppers for some different tasty variations.