Pavlova with Strawberries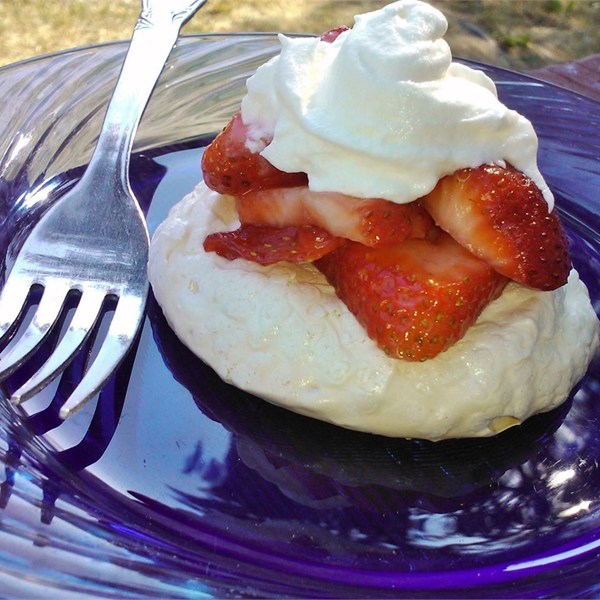 Description
This is a meringue-based dessert named after a Russian ballerina named Anna Pavlova. It's incredibly addictive and perfect for summer.
Ingredients
3/4 cups granulated sugar
2 tsp cornstarch
3 egg whites, at room temperature
2 tsp vanilla
3/4 tsp white vinegar
2 cups heavy cream
3 tbsp powdered sugar
1 pt strawberries hulled and sliced
Instructions
Preheat oven to 250°.
Line a baking sheet with parchment paper.
Whisk granulated sugar and cornstarch in a bowl and set aside.
Beat egg white in a bowl until they are foamy and have a thick, ribbony texture, 2-3 minutes. Pour 1/4 of the sugar mixture into the egg whites; whisk until completely incorporated, about 30 seconds. Repeat with the rest of the sugar mixture, whisking after each addition, leaving the egg whites thick and glossy. Pour 1 tsp. vanilla and the vinegar into the egg white mixture and whisk until you can lift the whisk or beater straight up and the egg whites form a sharp peak that holds its shape, 2-3 minutes.
Spoon egg mixture onto prepared baking sheet and spread out into 2 inch thick and 6 inch round disks.
Bake in the preheated oven for 1 hour.
Turn the oven door, crack open the oven door and let the Pavlova cool for 1 hour.
Whip cream, powdered sugar, and remaining tsp. vanilla until soft peaks form, 3-4 minutes.
Transfer each Pavlova to a serving plate and top with whipping cream and strawberries.