Spanish Paella Food Fest
Submitted by
recipebob
on May 4, 2010 - 7:16am
We've been having loads of food fun recently with Spanish Paella. After experimenting a little on our own, we've thrown a couple of Spanish Paella parties to the delight of friends and family.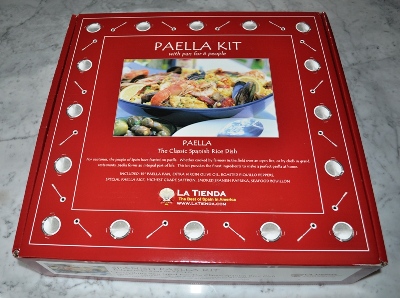 It all started a while back when my wife and I were browsing through a charming specialty Spanish food and kitchen store (The Spanish Table - Santa Fe, NM location). We marveled at the rows of tantalizing spanish food products on the shelves, probably over 30 different kinds of Spanish olive oil.
And the impressive display of paella pans. From the smallest 7 inch pans all the way up to the giant paella pans, over 200 inches in diameter for preparing an outdoor paella feast over a propane fired burner.
Note: apparently, there seems to be a contest for the world's largest paella pan. This group in Spain looks like they hold the record for the "Biggest Paella in the World" (with a 32 ton paella pan, 24,000 pounds of chicken, and enough paella for 110,000 people).
We thought it would be fun to try our hand at making Spanish Paella. And or course, a great excuse to buy one of these beautiful paella pans and add to our kitchen collection.
We didn't buy a paella pan that afternoon. But the seed was planted.
Well, just recently (now many years later), we finally got around to it. We started with this Spanish Paella kit that we found at La Tienda, a wonderful specialty Spanish food and kitchen supplier located in Virginia. The paella kit comes with a quality 15 inch stainless steel paella pan and the essential (non-perishable) ingredients for making paella for 6 (more like 8 or 10 people).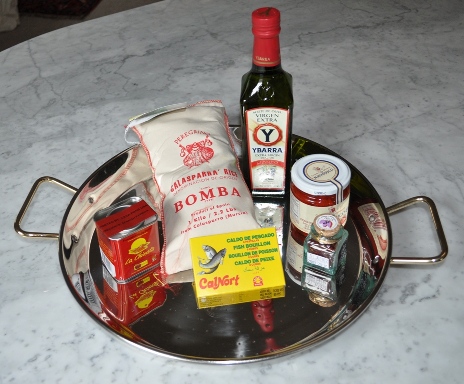 The Paella kit from La Tienda comes with most of the key ingredients for making paella.
Click on the image to enlarge ...
Bomba Rice (2.2 lbs), hand picked saffron, smoked paprika, roasted Piquillo peppers, seafood bouillon, extra virgin olive oil, and of course the 15 inch paella pan.
The most critical ingredient for a successful paella is the Bomba rice.
Bomba Rice is the supreme strain of short-grain rice grown in Calasparra, Spain. Bomba rice is unique because it expands in width like an accordion, rather than length-wise like other strains of rice.
People try to substitute other types of rice such as Italian Arborio rice, which is bred to be creamy, and Asian rice, which is meant to be sticky. This is where they go wrong. For a successful paella, always use a good Bomba rice.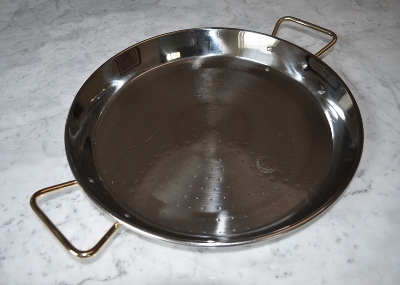 Here's a better view of the paella pan.
Click on the image to enlarge ...
A few days prior to the paella party, we did run into a mini crisis. Checking to be sure we had all the ingredients handy and ready to go, I realized we didn't have enough Bomba rice. Now remember, you have to use Bomba rice for paella to come out right. We had already used most of the Bomba rice from that came with the paella kit in previous trial paella runs leading up to our paella debut party.
I searched somewhat frantically for a local specialty spanish food store here in Southern California where I might be able to pickup some Bomba rice. I found La Espanola Meats and Spanish Cuisine located in Harbor city. A bit far to drive, these fine folks at La Espanola were happy to ship me a rescue package of Bomba rice that went on the UPS truck that afternoon. And as promised, with great anticpation, the Bomba rice arrived the next day. La Espnola to the rescue!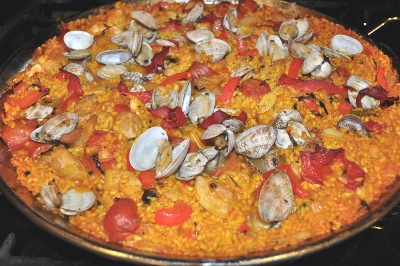 The finished paella mixta made with chicken, shrimp, clams, mussels, and spanish chorizo.
Paella Mixta means "mixed" which is a mixed combination of seafood and meat.
Traditional paella in Spain is usually a meat only or a seafood only recipe. The Paella Mixta (meat and seafood combination) is more popular in the US.
See the paella mixta recipe ...
Click on the image to enlarge ...
We kicked the party off with a few Spanish Tapas. Most everything we ordered from La Tienda.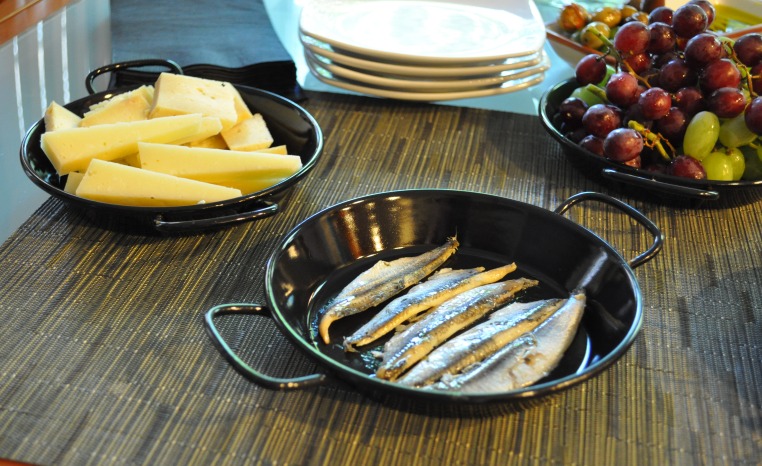 Tapas with sardines, semi-aged Manchego cheese, and an arrangement of red and green grapes. Notice the mini-paella pans for serving tapas, these add the perfect touch.
More tapas ...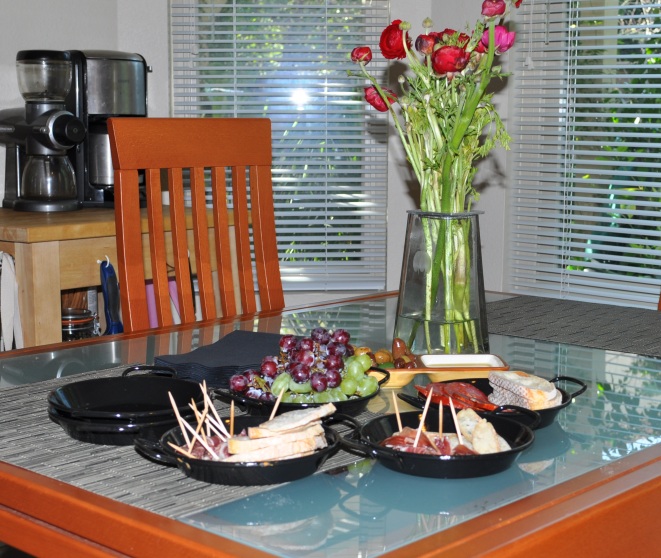 La Tienda supplied us with a variety of magnificent Spanish cured meats. Tapas with sliced Jamon Iberico at the front, and Pamplona style slicing chorizo behind the Jamon Iberico. We also picked up a mixture of gourmet mixed olives, situated behind the grapes, and some superb Spanish extra virgin olive oil for dipping.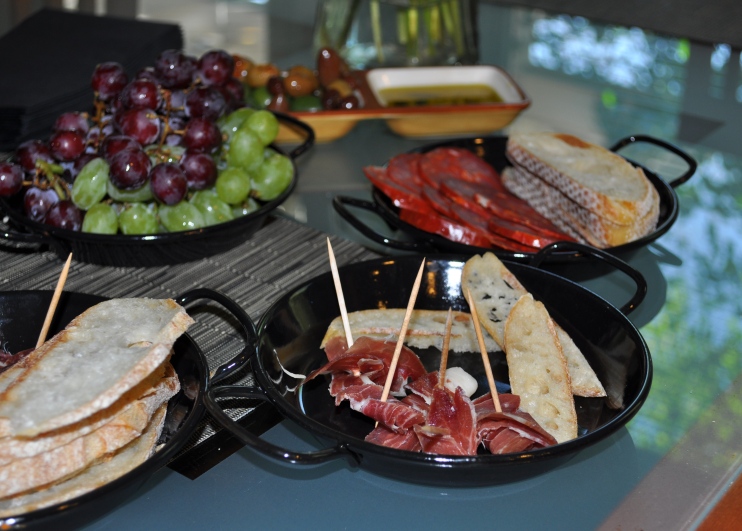 This paella party was tremendous fun and our guests were thoroughly delighted. We're planning on throwing a few more of these festive paella parties in the near future so we can play around with a few more Spanish cooking ideas.