How Will You Celebrate National Oatmeal Cookie Day?

Submitted by
editor
on April 29, 2010 - 11:40am
Are you surprised? Didn't know today (April 30th) is National Oatmeal Cookie Day? That's OK, you're probably not alone. Unless you're really tuned into oatmeal cookies.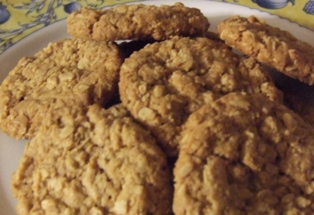 It turns out, almost every day of the year is a food holiday of one type or another. Interestingly enough, many food holidays are actually proclaimed by the President of the United States.
For example, our US Congress, by Senate Joint Resolution 193, designated March 6th (in 1984) as "Frozen Food Day", and requested the President, then Ronald Reagan, to issue a proclamation for this occasion.
In Proclamation #5157, President Ronald Reagan declared: "Now, therefore, I, Ronald Reagan, President of the United States of America, do hereby proclaim March 6, 1984, as Frozen Food Day, and I call upon the American people to observe such day with appropriate ceremonies and activies". And so it goes ...
Now, you probably won't track down an official proclamation for "National Oatmeal Cookie Day" by a US president. However, this food holiday has been celebrated for many years, and there is plenty of documentation to support that National Oatmeal Cookie Day does really exisit.
In the spirit of National Oatmeal Cookie Day, enjoy this favorite basic oatmeal recipe ....
And don't miss these chewey oatmal raisin cookies, some of the best ...