Halibut with Garlic Vinaigrette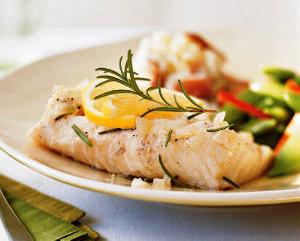 Description
Halibut in a garlic vinaigrette is an easy and delicious way to prepare fish in a skillet. The toasted garlic, apple cider vinegar and sea salt create a tangy vinaigrette, absolutely bursting with flavor.
Ingredients
1 lb halibut fillets
8 cloves garlic, thinly sliced
1/2 cup extra-virgin olive oil (plus 1 tbsp)
1/4 cup apple cider vinegar
coarse sea salt
Instructions
Heat a cast iron skillet over high heat, until hot. Rub the fish fillets with 1 tablespoon of olive oil and sprinkle with coarse sea salt. Cook until golden brown on both sides and opaque throughout, about 6 minutes per side.
Meanwhile, heat the remaining 1/2 cup of olive oil in a skillet over medium-low heat. Add the garlic and cook slowly until golden brown and crisp. Be careful not to burn the garlic. Add the vinegar slowly (oil may spit and pop), and stir to combine.
Transfer the fish to a platter, pour the vinaigrette with garlic chips over the fish and serve.
Notes
This recipe is perfect with other firm white fish including Cod.
Groups: