Guacamole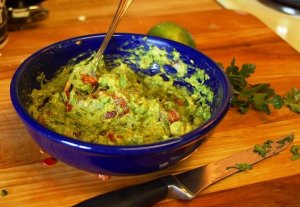 Description
This classic avocado dip always hits the spot.
Ingredients
3 med avocados, peeled and pitted
1 lime, juiced
1/2 cup onion, diced
1 tsp garlic, minced
1 tsp sea salt, to taste
3 tbsp fresh cilantro, coarsely chopped
1 serrano chile, seeded and diced (reduce amount to adjust heat level)
Instructions
In a medium bowl, mash together the avocados, lime juice, and salt. Mix in onion, cilantro and garlic. Stir in the diced serrano chile. For best flavor, refrigerate 1 hour. Serve immediately if you're in a hurry.
Notes
Don't be afraid to experiment. If you stick to the basic ingredients, it's hard to ruin guacamole. Depending on your tastes, an easy variation is to make it more smooth or more chunky (more or less mashing of the ingredients in the bowl).
Groups: