Grilled Chicken with Brie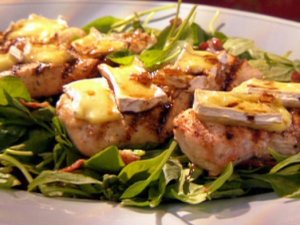 Description
Grilled chicken on a bed of baby spinach salad topped with slices of warm brie cheese. Ooh la la!
Ingredients
4 boneless skinless chicken breast halves, about 5 ounces each
1 pinch salt
1 pinch ground black pepper
8 slices brie cheese, 1/2 inch thick
1 tbsp olive oil
2 shallots, chopped
2 tbsp vinegar
2 tbsp honey
4 cups fresh baby spinach leaves
4 slices bacon, cooked
1 tsp salt-free garlic and herb seasoning
cooking spray
Instructions
Heat a stove-top grill pan or griddle with cooking spray and pre-heat (medium-high heat).
Season both sides of chicken with salt, black pepper, and garlic and herb seasoning. Add chicken to hot pan and cook 3 to 4 minutes per side, until browned and cooked through. Remove from heat. Place 1 to 2 slices of Brie on top of chicken, cover with foil and place back on grill pan for another 1 minute, until cheese melts.
At the same time, heat a small skillet over medium heat. Add olive oil and chopped shallots to the pan and saute. In a small bowl, combine the vinegar, honey and salt and pepper, to taste. Add the mixture to the skillet and stir to combine. Pour the warm vinaigrette over the spinach and toss to coat. Crumble the bacon strips over the dressed salad.
Transfer chicken to a serving plate or plate with spinach salad.
Groups: