Loquat Peach Salsa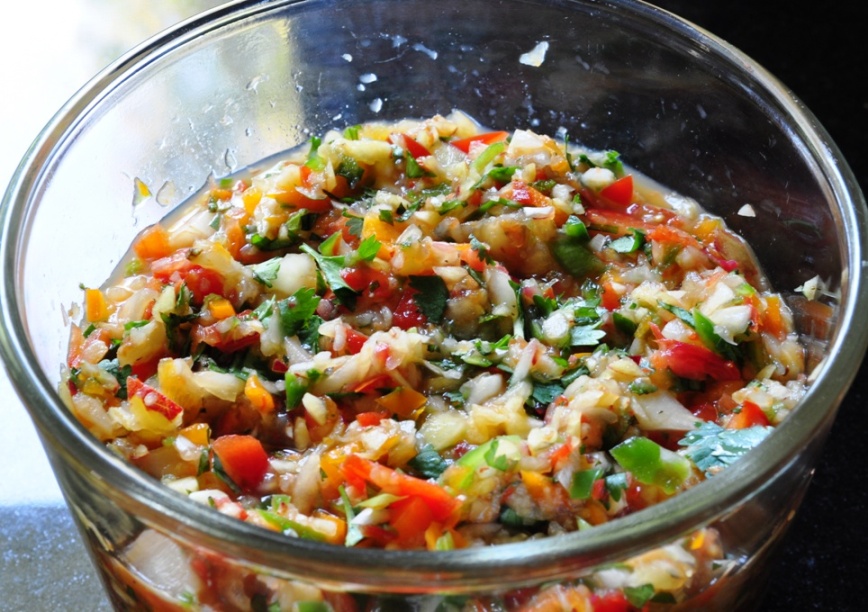 Description
Loquat Peach Salsa, a tangy fresh fruit salsa made with sweet loquats straight off the loquat tree in the backyard.
Ingredients
16 loquats, peeled, pitted and chopped
3 ripe small peaches, pitted and chopped
4 jalapeno chile peppers, seeded and chopped
10 patio tomatoes (cherry tomatoes)
1/2 orange bell pepper
1/2 red bell pepper
1 tbsp green onion, chopped
2 tbsps fresh cilantro, chopped
2 tbsps fresh mint leaves, chopped
2 tbsps fresh lime juice
1/4 tsp sea salt
dash fresh ground black pepper
Instructions
Wash the loquats, slice off the tip of the stem end, peel each fruit, remove the seeds and chop into small chunks. Wash, pit and chop the peach into small chunks. Seed the jalapeno chile peppers and chop. Chop the green onion, red and orange bell peppers.
Place the chopped loquats, peach, jalapeno peppers, bell peppers, green onion and tomatoes in a food processor. Pulse carefully to further chop to a salsa consistency. Be careful not to over-process so you don't wind up with a mushy, soupy result.
Transfer the salsa from the food processor to a glass mixing bowl. Add the fresh lime juice, chopped cilantro and chopped mint. Add the sea salt and fresh ground black pepper to season. Mix thoroughly.
Allow to chill in the refrigerator for an hour or more before serving to allow the flavors to blend.
Notes
Fruit salsas go beautifully with baked or grilled fish such as halibut.
Groups: