recipes
Recipe category
Submitted by
editor
on August 10, 2009 - 8:38am
Time to Organize Your Family Recipes
If you have a collection of family recipes, for most of us, it's probably pretty disorganized. If you're lucky, you have all of your recipes more or less in one place, stuffed in a drawer. More than likely, your recipes are scattered all over the place, in drawers, recipe boxes, storage or moving boxes, file cabinets, etc.
If you keep all of your recipes stuffed away in a drawer, you might have a chance finding a recipe you've been thinking about. And you know, you can determine the age of a recipe by how far down (or far back) in the drawer you have to dig to locate your favorite recipe.
Or, maybe you use the discolored paper technique (similar to carbon dating). The yellower the paper, the older the recipe.
Does your recipe collection look something like this?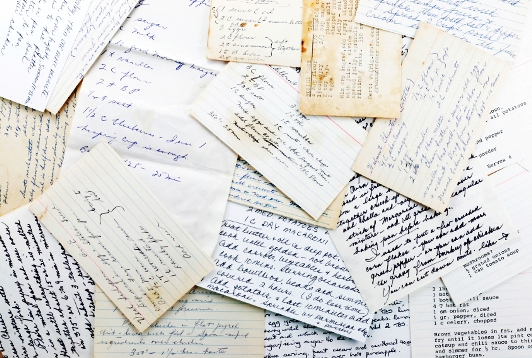 Hey, we get it.
There's something actually comfortable, familiar and sentimental keeping our recipe collection on a bunch of 3x5 index cards.
Dog-eared corners, faded paper, smeared ink from water spills, notes and scratchings when we want to make a change or addition, and so on.