Organize Your Family Recipes
Submitted by
editor
on August 10, 2009 - 8:38am
Time to Organize Your Family Recipes
If you have a collection of family recipes, for most of us, it's probably pretty disorganized. If you're lucky, you have all of your recipes more or less in one place, stuffed in a drawer. More than likely, your recipes are scattered all over the place, in drawers, recipe boxes, storage or moving boxes, file cabinets, etc.
If you keep all of your recipes stuffed away in a drawer, you might have a chance finding a recipe you've been thinking about. And you know, you can determine the age of a recipe by how far down (or far back) in the drawer you have to dig to locate your favorite recipe.
Or, maybe you use the discolored paper technique (similar to carbon dating). The yellower the paper, the older the recipe.
Does your recipe collection look something like this?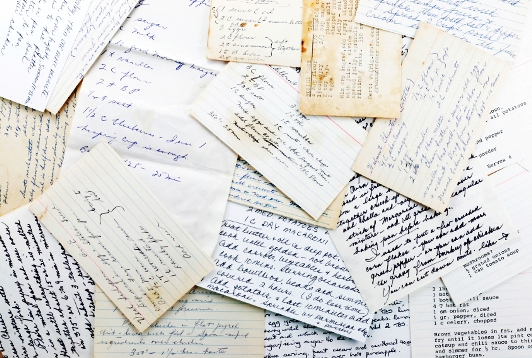 Hey, we get it.
There's something actually comfortable, familiar and sentimental keeping our recipe collection on a bunch of 3x5 index cards.
Dog-eared corners, faded paper, smeared ink from water spills, notes and scratchings when we want to make a change or addition, and so on.And that's if we can actually find the 3x5 card we're looking for ... "I know that recipe is in here somewhere"?
This is where we come in at Family Recipe Central. Time to get organized, and we're here to help. It's actually fun!
Most important, you don't want to lose or misplace your treasured family recipes. Your family recipes are a tradition, handed down from generation to generation. It's your family heritage.
There are so many benefits to getting all of your recipes into a database. And our system at Family Recipe Central is the perfect tool for the job.
Neat, clean and consistent format to record and keep all of your recipes.
Can include a picture image of the dish.
Easy to share and collaborate with friends and family.
Attach comments and notes to any recipe.
Privacy within our family group model so you don't have to share with the world.
Of course, you can share selected recipes with the public if you choose. Easy to search and find your recipes based on categories, cuisine types, meal types, and any other content you include in your recipes. You'll never spend more than a few seconds looking for that special holiday recipe again.
Keep a list of your own favorites, or other favorite recipes you find on the site.
Track changes. Want to know when your cousin or aunt makes a change or update to a recipe. Easy, just subscribe to a change notification on that recipe and you'll receive a message if any changes are made.
In the family group model, you can collaborate with others in the group to record and document your recipes. This is a group style editing capability that makes it easy and fun to collaborate whether you're in the same kitchen or half way around the world.
Consider this your virtual kitchen online!
It's a great family project and it actually brings families closer together.
So why not get started on your family recipe collection today!