VadeBonCoeur Family Group Home Page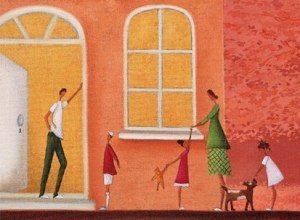 About Us
Some of our best memories from family gatherings include not only wonderful times spent with loved ones and friends, but also the smells and tastes of great food. There are traditional family favorites in each branch of our family tree. Get togethers over the years have taught us that we have some terrific cooks in our family. Thus, the idea of a collection of "VadeBonCoeur Family Favorites" Cookbook was born.
In 1990 VadeBonCoeur family members and extended family gathered their favorite recipes and produced a limited number of cookbooks. It included more than 200 recipes including traditional categories of appetizers, salads & soups, vegetables and side dishes, main dishes, pies, pastries & desserts, cakes & cookies. But that's not all! We received many easy and fun recipes that are great for children, so we created a section called, "Kids Cuisine", including cooking and safety tips for our "mini-chefs". What better way to spend an afternoon than cooking with your little ones, teaching them how to make traditional family favorites! What memories they will have and traditions to pass along to their children!
Each year we hope the "cookbook" continues to grow, just as our families do. We hope you will actively contribute your favorite recipes and spread the word to other family members.
Bon Apetite!
Sorry, only members of this group have permission to view this group content. If you would like to join this group, or feel you belong in this group, you may request membership. See the "Request Membership" link at the top of the right hand sidebar.
If you haven't setup an account at Family Recipe Central yet, you'll need to register for an account first. See "Signup Today" at the top of the left hand sidebar.