Jones-Dougan-Gower-Starnes Family Group Home Page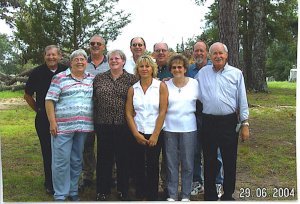 About Us
Welcome to my family group. Hi, I'm Deborah Janice Jones-Dougan-Gower-Starnes. I have created this group to help preserve all the fabulous recipes of our family, both passed down and brand new. I wanted a place to share and compile these recipes and this forum seemed to fit the bill nicely. All family mambers are welcome. The only requirements are to honor yourself in the 'Source' field and if this was handed down from a loved one, please honor them also for thier deliciosness in the 'Description' field. Also, any other little tidbit about the recipe or the person it came from would be very welcome in the 'Description' field also.
Welcome to the family group of Artie and Coy Jones, Snoopie and Floyd Dougan, Perry and Kathryn Gower, and me - Janice Starnes.
Sorry, only members of this group have permission to view this group content. If you would like to join this group, or feel you belong in this group, you may request membership. See the "Request Membership" link at the top of the right hand sidebar.
If you haven't setup an account at Family Recipe Central yet, you'll need to register for an account first. See "Signup Today" at the top of the left hand sidebar.