spanish paella
Submitted by
recipebob
on May 4, 2010 - 7:16am
We've been having loads of food fun recently with Spanish Paella. After experimenting a little on our own, we've thrown a couple of Spanish Paella parties to the delight of friends and family.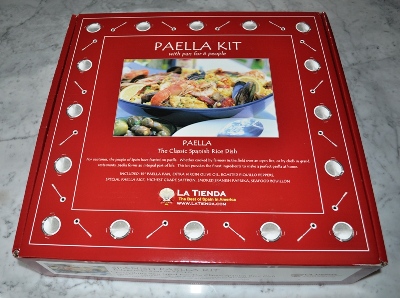 It all started a while back when my wife and I were browsing through a charming specialty Spanish food and kitchen store (The Spanish Table - Santa Fe, NM location). We marveled at the rows of tantalizing spanish food products on the shelves, probably over 30 different kinds of Spanish olive oil.
And the impressive display of paella pans. From the smallest 7 inch pans all the way up to the giant paella pans, over 200 inches in diameter for preparing an outdoor paella feast over a propane fired burner.
Note: apparently, there seems to be a contest for the world's largest paella pan. This group in Spain looks like they hold the record for the "Biggest Paella in the World" (with a 32 ton paella pan, 24,000 pounds of chicken, and enough paella for 110,000 people).
We thought it would be fun to try our hand at making Spanish Paella. And or course, a great excuse to buy one of these beautiful paella pans and add to our kitchen collection.
We didn't buy a paella pan that afternoon. But the seed was planted.
Well, just recently (now many years later), we finally got around to it. We started with this Spanish Paella kit that we found at La Tienda, a wonderful specialty Spanish food and kitchen supplier located in Virginia. The paella kit comes with a quality 15 inch stainless steel paella pan and the essential (non-perishable) ingredients for making paella for 6 (more like 8 or 10 people).