Recipe Index Cards are Popular and Easy

Submitted by
editor
on January 10, 2010 - 9:57am
Once you start entering and keeping your recipes online at Family Recipe Central, you'll find that printing your recipes on recipe index cards is simple and convenient. I must confess, as much as I really appreciate working with recipes online, I still prefer to read recipes from a printed copy while cooking in the kitchen.
For the environmentally conscious, if you're committed to saving the trees, then by all means, you can bring your notebook computer into the kitchen and refer to your recipes online as you cook. But there's something familiar and comfortable about keeping recipes in journals, index cards, or just piles of scrap paper (although, that gets pretty disorganized).
Of course, with a little bit of improved technology, we're all about solving the hard-copy recipe chaos!
At Family Recipe Central, we suggest a "best of both worlds" solution. You can manage your recipes online with all the convenience and facility to share, collaborate and organize your recipes. And keeping your recipes online provides easy access to your recipe collection no matter where you happen to be. For the kitchen, when it's time to cook, with the push of a button, print any recipe in a clear, beautifully formatted 4x6 inch or 5x8 inch index card, as well as a full 8½ by 11 inch page if you prefer.
Printing your recipes on standard index cards is pretty economical too. No expensive special photo paper necessary for your ink-jet or laser printer needed, just ordinary standard index cards that you can find at any office supply including Staples or Office Depot. At last check, a 500 pack of 5x8 inch plain (not ruled) index cards was about $10. That's about 2 cents a card.
We like to use 5x8 inch index cards. They're large enough to contain a more detailed recipe on a single card, yet still convenient to store in a recipe file box or small 5x8 inch 3 ring binder (more about that in a moment).
Most ink-jet and laser printers today can easily print 5x8 index cards. Similar in size to photo paper, index cards typically load into an adjustable printer tray. And some printer models allow a 5x8 index card to be fed individually, similar to an envelope single feed.
At 2 cents per card, you can afford to print a fresh copy if you spill some sauce on your recipe index card while you're cooking in the kitchen. But we like to protect the index cards with the thin plastic film protectors you see in the pictures below. A 25 pack of 5½ x 8 inch top loading plastic sheet protectors runs about $5. You can protect 2 recipe index cards per sleeve (front and back), so it's quite affordable. If you spill something on the sleeve, it easily wipes off clean with a paper towel.
Here are a few convenient ways to use printed recipe index cards in the kitchen.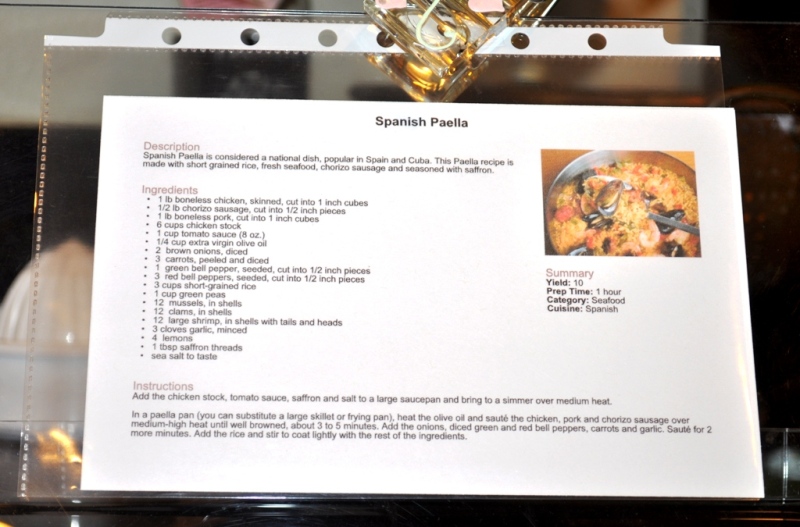 A plexiglass recipe stand is a convenient way to hold up a recipe on the kitchen counter so you can read while you cook.
If you keep your recipe index card in a protective plastic sleeve, then just remove the sleeve from the notebook binder, and clip it on the recipe stand.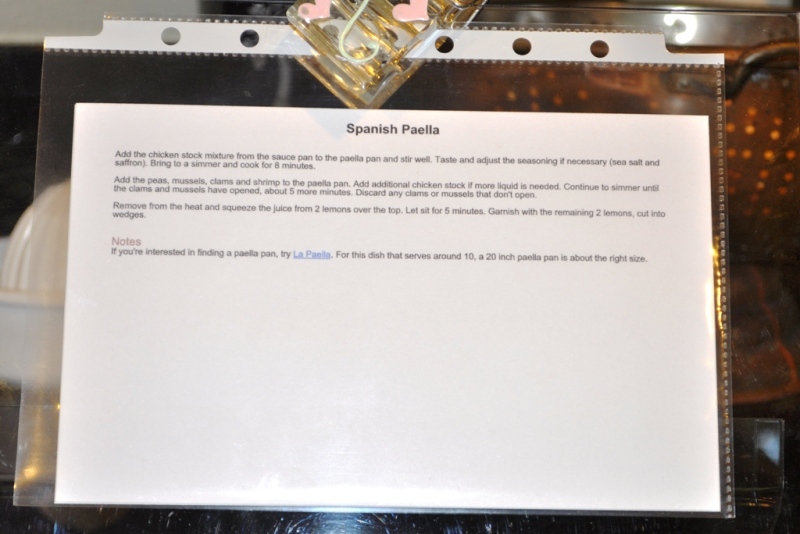 If the recipe spans across more than a single index card, just print the 2nd page on a separate index card and place back to back in the same plastic sleeve.
Then just flip the sleeve over on the stand to view the back side (second page).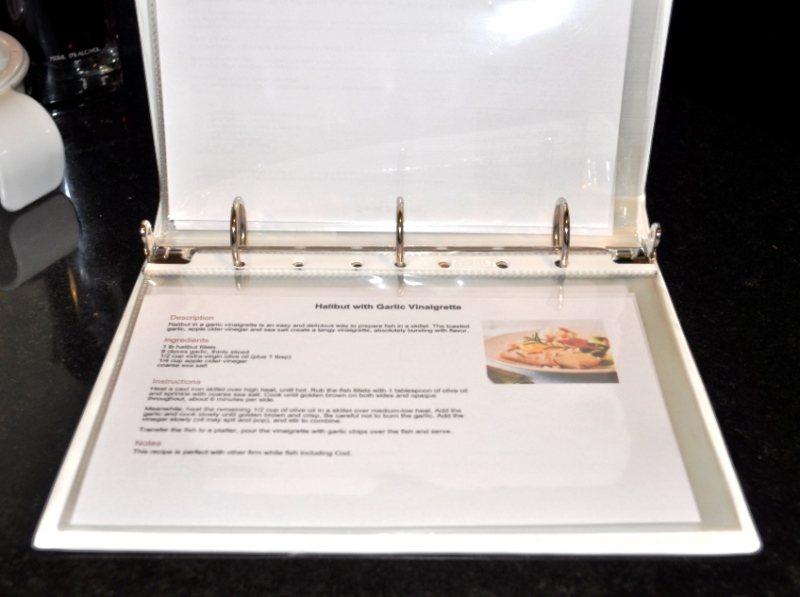 The plastic protective sleeves hold the 5x8 recipe cards conveniently, and the sleeve has a reinforced strip with holes that fit a 5½ x 8 three ring binder.
The binder shown can hold about 75 sleeves. With a recipe front and back, the binder can hold about 150 recipes comfortably.
If you have more recipes, an extra binder or two is an easy way to organize.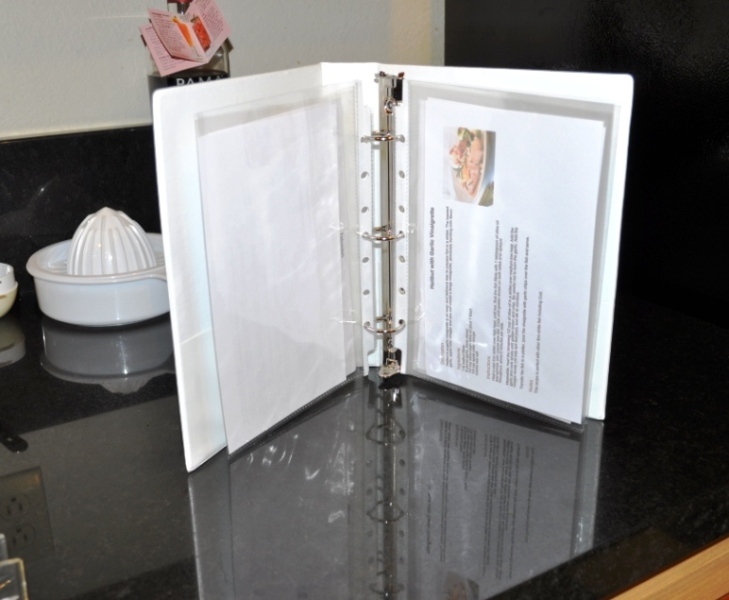 If you don't want to use a recipe stand for viewing or reading the recipes, you can refer to the recipes from the three ring binder while you cook.
Keep in mind that the recipe index cards are printed in landscape mode, so standing the binder upright on the kitchen counter is not a convenient orientation to read the recipes.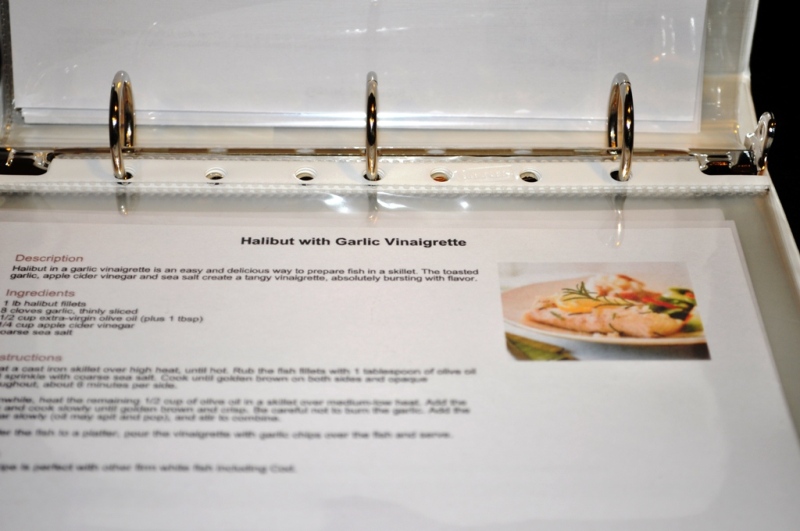 But if you lay the binder out flat on the counter, you can read the recipes easily enough. Not quite as convenient as reading the recipes upright from a viewing stand, but it works fine.
If you push the binder toward the back of the counter top, it's possible to prop up one side of the binder against the backsplash or wall.
Here's an example of a 5x8 recipe index card that you can easily produce at Family Recipe Central. If you haven't already joined, all you have to do is register for an account and you can get started today. See the sign-up box at the top of the left-hand sidebar (it won't cost you a dime).