Never Underestimate the Power of an Old Family Recipe
Submitted by
recipebob
on October 18, 2009 - 7:24am
How many times have you heard the phrase "from an old family recipe"? It tends to strike a powerful emotion. After all, we identify with great cooking that has stood the test of time. Particularly if it's a special dish or preparation that originates from the family kitchen several generations back, handed down over the years. If we can establish that we're cooking from an old family recipe it has to be authentic. The real deal for sure!
We certainly treasure our own family recipes that have been handed down from one generation to the next. We tend to honor home cooking as better, more wholesome food. Somehow, nothing else can quite measure up to the flavor and taste of that old family recipe.
And the old family recipe makes us feel connected to our family's prior generations. It gives us a sense of duration and permanence. Pretty good family endurance if you can say that you've been preparing a special dish in your family the same way for 150 years.
Sometimes an old family recipe is so good it becomes the basis for starting a company. A commercial food venture based on an old family recipe can leverage a powerful marketing message. For some, it may even come off as a ploy, trying to take advantage of our emotions. After all, if your family recipe is so good that my family will want to feast on your family's cooking, it must be some spectacular food.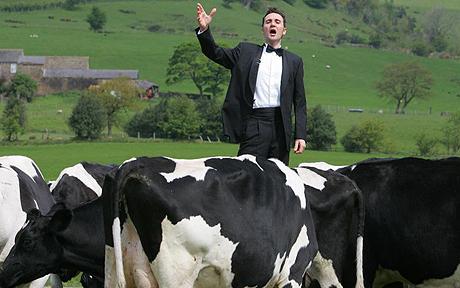 Here's a fun family recipe story about Fredericks, Britain's largest independent ice cream maker. Mr. Frederick, grandson of Antonio Federici who founded the company over 100 years ago, explains the tradition of "singing to the cows in this article".
He says "My grandfather always sang to the cows before milking and in our quest to recreate the gelato my brother and I enjoyed as children, we are sticking faithfully to his recipe."
Look, cattle in Japan raised under the "Kobe style" are pampered with daily massages (and beer). And we have the famous "happy cows" in California. Why not serenade the cows with great opera?
In connection with Fredericks re-launching their 100 year-old ice cream brand, they invited Marcello Bedoni, one of Europe's leading tenors, to fly to Lancashire, England to serenade the cows.
Mr. Bedoni remarked; "I am looking forward to the concerts - the cows are such gentle beasts and have a good ear for opera. I have put together a special repertoire for my audience including soothing arias and Napolitan songs. I am steering clear of rousing numbers like Wagner and Carmina Burana!".
There's a lesson learned here. Great family recipe tradition is not always just about the secret ingredients, or the special brand of tender loving preparation that only your grandmother could deliver. There are clearly other just as meaningful rituals and practices that contribute to the honored legacy we know as "from an old family recipe".
Perhaps you have a special family recipe tradition that might be the beginning of your next wildly successful commercial venture? You never know .....