Family Cookbook - So Many Family Stories
Submitted by
recipebob
on October 25, 2009 - 8:10am
When you set out to create your family cookbook, don't just focus on the family recipes. It's also about capturing the family stories and preserving the family memories. There are so many ways to weave stories about our family members into the family cookbook content.
Here are a few of the more obvious opportunities to capture and tell the family stories
Biographies of family members
If your family immigrated to America, how did they get here?
Every family event offers a story (weddings, holidays, graduation, births, family reunions, family vacations, etc.)
A family member's special skills and talents (sports, charity and philanthropy, dancing, photography, hobbies, careers, inventor, gardening, storytelling, etc.)
Family stories spring forth from some of these less obvious places
Sentimental objects that remind you of a family member
Letters from a family member can reveal a whole chapter of memories (romatic letters when Grandad was courting Grandmother)
A family disagreement and the lessons learned (hopefully you can find some wisdom even in the family conflicts)
A family member's military service and the pride and gratitude we hold for all that make this courageous contribution
Life's embarassing moments (hopefully everyone is a good sport)
Stories abound around so many of the objects we associate with someone in our family, especially in the kitchen.
I can remember as a child, I would spend the day visiting my Grandmother. She would always make something special for me in the kitchen. Whether it was meat filled knishes or the world's best chopped liver, I'm convinced that one of her cooking secrets was the old fashioned meat grinder that she used.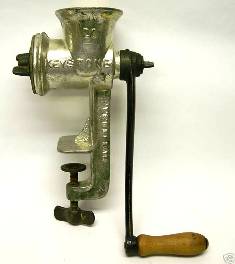 I was always fascinated by the meat grinder she had setup on her kitchen counter, temporarily secured by the workshop stycle c-clamp device. It had an extra long crank (for more leverage) that would hand over the side of the counter, a pretty clever design actually. We had nothing like this at our house.
And it was impressive to see her crank the grinder and prepare the gournd meat by hand. In some way, I think this was her way to put extra love and care into her cooking with the additional muscle and effort it took doing things the manual way.
Not that it mattered much to me as a child, but I later discovered her meat grinder was a classic Keystone grinder manufactured by the C.I. Company of Boyertown, PA, sometime during the 1930s.
Much later as an adult, I remember when I asked her about the grinder, she told me a story about how she was given the meat grinder as a gift from her sister. And she explained how important (and difficult) it was to keep clean. She was careful to avoid accidentally inflicting the family with food poisoning. My Grandmother was meticulously clean and careful around food preparation in her kitchen, and she was pretty judgemental of almost everyone else's kitchen practices (to the dismay of my Mother).
I still have the Keystone meat grinder today. Not only does it have interesting antique kitchen gadget appeal, more significant for me is the sentimental value and memories of my Grandmother that this object represents.
This will be an ideal story about my Grandmother when I include her chopped liver recipe in our next family cookbook.
And that's how you tie in the stories that come with the sentimental objects that we associate with our loved ones.
Here's another example I ran across recently. Christy Jordan was sharing a ground beaf stew recipe on her blog, Southern Plate. And she includes a story about how her Grandaddy's favorite pyrex stew bowl. And she provides a picture of the bowl, apparently the Friendship pattern from Pyrex. You'll see from some of the comments, people really seem to identify with the Pyrex stew bowl anecdote. You'll get plenty of ideas about how to bring your family stories to life at Christy Jordan's blog.
So be sure to weave your memorable family stories into your next family cookbook. It's more than just passing on the family recipes, a family cookbook is about creating a true family heirloom.