loquat tree
Submitted by
recipebob
on April 27, 2010 - 12:59pm
It's that time of year again. The spring harvest in our garden is just around the corner. We've planted the spring vegetable garden and it's still too early for the spring vegetable harvest, but the loquat tree in the backyard is brimming with fruit. It's going to be a bountiful year for loquats.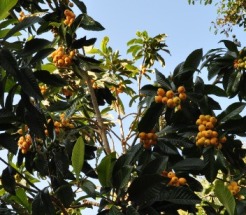 It's a beautiful tree. And not only is the fruit bright and colorful, it's delicious too! Juicy, sweet and tangy all at once.
The yield this year is terrific. We're experiencing an El Niño this season, so the loquat abundance might have to with the extra rain we've been receiving.
At any rate, we're going to be busy picking fruit this weekend. Besides, if we don't get the fruit off the tree, the birds and the squirrels will have a feast.
In fact, we have a resident squirrel that loves to gorge himself on the loquats every year. He stuffs himself and can barely hold himself up in the tree. And mister squirrel also likes to tell a few other squirrels in the area. Apparently, he doesn't mind sharing his loquat find with the neighborhood.