Have You Discovered CalorieKing?

Submitted by
editor
on September 12, 2009 - 8:38am
When it comes to cooking and recipes, lot's of people are happier staying slightly ignorant about calories and nutrition information. Counting calories and worrying about every nutritional detail is simply too much work. Let's just enjoy great tasting food, right?
But at some point in our lives, we are probably better off paying more attention to the calorie and nutritional content of the food we eat.
CalorieKing - http://www.calorieking.com is a great website for discovering the calorie and nutritional content of thousands of foods. CalorieKing provides nutritional information for over 50,000 foods. From generic foods including fruits, vegetables and meats, to familiar supermarket brands, as well as information on over 200 fast-food and restaurant chains, this is easily one of the most complete consumer databases on food nutrition.
CalorieKing keeps this remarkable nutrition database up-to-date by sourcing high-quality nutritional data from scientific databases such as the USDA as well as many food manufactures and food industry boards and councils.
CalorieKing provides tools and education to help you lose weight (and keep it off) by eating healthier. They also provide useful online tools for computing your BMI (Body Mass Index), weight maintenance calories, waist to hip ratio and more.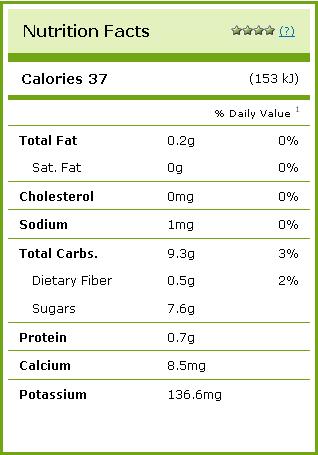 At CalorieKing you can search the database for just about any food item you can think of. Access to this nutritional information is free. For purchase, they also provide software you can download to your PC, MAC or Palm PDA to manage your diet and exercise program. And a mobile version of the website that makes it easy to use from your favorite mobile device.
Here's an example, to the right, of the nutritional and calorie information you can look up at CalorieKing. This is for watermelon, a 4 ounce serving size.
We like CalorieKing so much, we've provided a convenient search tool on our website. We think this brings you even more value and convenience here at Family Recipe Central.
Check out the CalorieKing search tool here.