Default Photos at Family Recipe Central
Submitted by
editor
on February 21, 2010 - 11:59am
Images and photos add an extra dimension to just about every form of content at Family Recipe Central including your user profile, family group home page, your recipes and cookbooks and your personal and group blog posts that you can create.
In the spirit of "pictures provide a much more interesting view", we've added a few default images that you should be aware of.
User Profile

We have been using a default gravatar image for your user profile picture. Many of you may not have registered at Gravatar, so you end up with a unique auto-generated image (Gravatar keeps track of the unique image they create based on your email address - remember, email addresses are unique across the Internet).
By the way, Gravatar is a convenient way to handle your user profile picture that can follow you everywhere you go on the Interent where the Gravatar system is used to provide user profile images.

For the most part, the auto-generated Gravatar images are kind of cute ...

And some of the images can look rather silly ...

And to the dismay of some of our new members, occasionaly the auto-generated Gravatar image can seem downright monstrous.
Now, admittedly, the idea of the slightly frightening, or perhaps less than flattering auto-generated Gravatar is to encourage users to supply their own image or photo.

We certainly don't want to offend anyone (even if these images are in the spirit of just having a little fun ...), so going forward, when the default auto-generated Gravatar appears a little too offensive, we'll switch your user-profile setting to display the default "Cool Happy Face" image as shown to the left.
You can always revert back to your Gravatar image by setting the "Replace my user picture with the gravatar for my e-mail address" checkbox in your user profile. And of course, if you like using the Gravatar system, you can visit Gravatar and setup your own icon photo that will follow you everywhere on the Interent wherever the Gravatar system is used to supply user profile images.
If you currently have the default "Cool Happy Face" icon displaying, you can also try uploading your own image or photo from your user profile.
Group Photo

One of the special features at Family Recipe Central is the "Group function". Families can create a group to share and collaborate on their family recipes and family cookbooks with other family members. And friends too, it's a lot of fun.
You can restrict access to Group content to just the members of a group, so this becomes an easy way for families to collaborate online while still maintaining some family privacy.
With groups, you have the option of providing your own group photo or image that will display on your group home page. Previously, if you left the group photo empty, we didn't display a photo or image on your group home page (the region was left blank).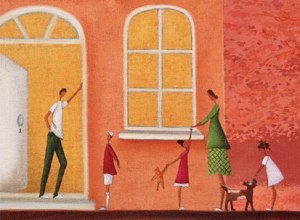 But we'd really like to encourage our members to supply a group photo, it adds a much nicer and friendlier touch to your group home page.
Going forward, if you don't supply a group image or photo, the default group family artwork, as shown to the right, will be displayed on your group home page.
It's an attempt at a pleasant enough encouragement for you to supply your own family or group image for your group home page. Of course, if you like this artwork, you're certainly welcome to keep as your group photo (not as original, but it looks nice, and we think it's a visual improvement over the blank empty space).
Now, if you really prefer to leave the group picture blank, you can provide a blank or empty group photo. The group administrator (creator of the group) can follow the instructions on the group edit form to override the default image with a blank image.
Yes, we're going to make you work just a little bit harder to keep your group home page photo empty. We hope you don't mind.
Be sure to check back often, there's always something new going on at Family Recipe Central.